Wave After Wave – February 5th – 7th
An invitation to let go of a racing mind and to open up for a higher wisdom, the wisdom of the body and the heart.
The 5Rhythms is a moving meditation practice, a practice of being in your body — that ignites creativity, connection, and community. It is an improvisational form of dance. 5Rhythms is a map of how energy moves. It shows us the patterns, rhythms and circles of life. Flowing connects us to our feminine nature. Staccato connects us to our masculine nature. Chaos dissolves and integrates these two energies. As a result we find transformation in Lyrical. From this transformative space we are then connected to Stillness. The nature of the stillness dance invites compassion and connection to self, partners and community. Each of these rhythms is present within us at all times.
In this workshop we dive into these 5 structures of energy in order to examine, express, explore and embrace aspects of them all. Through the workshop we will find ways to open up the body, the mind and the heart to incorporate saying yes and accepting what is.
By using the body, the breath and the rhythm we arrive home in ourselves again. No matter what pattern, emotion, feeling or state of mind has the upper hand there is a rhythm (and a movement) that can open us up and lead us to full presence – into the present moment with an open mind and heart. It allows us to recreate and rediscover ourselves over and over again and opens up a new feeling of freedom and opportunity, which is both surprising, healing, exciting and deeply regenerating.
We dance to surrender to a bigger space than the personal. We dance to let go of everything that is and connect ourselves to the creative space, both physically and mentally moved from one place to another over and over and over again.
The 5Rhythms are a map to everywhere we want to go — inner, outer, forward, back, physical, emotional, intellectual — they reconnect us to the wisdom of our bodies and unleash movement's dynamic healing power.
FAQ
The 5Rhythms workshop "Wave after Wave" is open to anyone. No experience or level of fitness is required. The 5Rhythms is a simple and flexible practice that can be experienced by anyone regardless of their physical limitations. Because there is no specific "routine" to follow you will be able to participate at your own pace, within your own capacity to move.
It is suggested that you dress comfortably in clothing that you don't mind sweating in and allows you a full range of motion. You may want to bring a cover-up so you don't get cold, and/or a small towel to dry off with. We dance bare-footed or in light-soled dance shoes (athletic shoes/trainers are not allowed on the dance floor). Bring a bottle of water and your curiosity. That's all you need.
Nina Ejlskov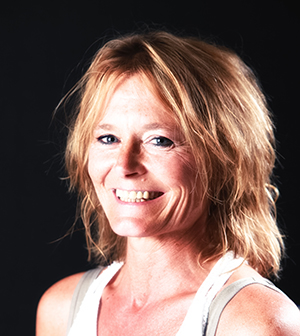 I have danced the 5Rhythms the last 11 years and met people from big parts of the world. I have been to more countries and continents than I could have ever imagined possible before I was introduced to the dance. It has broaden my horizon and given me insight into the way I exist in the world and into myself in general. It has cleansed my cells, freed my inner spark of life and curiosity and led me to realisations I never in a million years would have imagined with my body and my mind.
5rhythms is for me truly a practice that unites body, mind, and soul – and also breaks with the mentality of culture and social inheritance, which makes it possible for me to arrive back in myself again. In there I find my authentic self. My life…
This is what I want to pass along in my practice: to achieve the freedom of being a free spirit, to be the truthful authentic spirits we are. Separated from each other and yet one and the same. Created by the same, separated by bodies. Unique individuals who are irreplaceable to the whole. That is what makes us perfect in our imperfection.
Open and pure, without masks, we can meet in the dance and be who we are: Humans, – an aspect of each other, and an aspect of life, of it all.
DATE & SCHEDULE
5 February 19:00-21:00
6 February 11:00-19:00
7 February 11:00-14:00
COST: £150
LUNCH AND BREAKS
The Paddock Room at Hawksfield is located right next to Strong Adolfo's Cafe which is perfect for lunch and the best coffee and snacks. We will provide water and snacks.
LOCATION
The Paddock Room, Hawksfield, Atlantic Highway, Wadebrige, PL27 7LR. Link to a Google Map.
For more information and to reserve your place email Annalisa: artofpresence@me.com Ph: 07482 211322.
Learn more about 5 Rhythms
Learn about Hawksfield